Karolina Cicha & Company "TANY"

"TANY" is a dialogue of the past with the present; a dialogue of the old and the new, both textually and musically. These are bipartite compositions made up of traditional songs and a modern commentary.
Ethnic music. Rhythm. Melody. Dance.
The album includes compositions in Polish as well as songs in other languages: Belarusian, Ukrainian, Karaim, and others. These are ethnic minorities who inhabit the area of Podlasie in North-East Poland – the home region of Karolina Cicha.
Uplifting texts about important moments and stages of life: birth, wedding, youth, aging, moments of transgression, times of maturing for change, and of encounters with metaphysics. Rituals of transition, rites of passage.
A therapeutic album: movement is health!
LISTEN TO THE SINGLE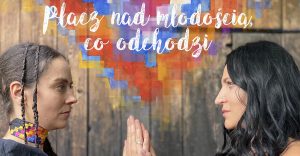 This material is a dialogue with traditional music of the Podlasie district in North-East Poland, the home region of Karolina Cicha. The compositions prioritize traditional melodies and musical forms typical of the region, such as polkas, ballads, or family songs.
It is impossible to imagine the culture of the present-day Podlasie region without its Eastern Slavic – particularly Belarusian and Ukrainian – heritage. The region is the border of the Latin alphabet, the area where Latin and Eastern influences cross. A particular asset of this region is its multi-lingual character – the coexistence of songs in Polish and other Eastern Slavic languages. The album also includes a song in Karaim, a precious trace of the presence of this culture in Eastern Poland.
The musical dialogue with the traditional world in this material is accompanied by a similar conversation between traditional and contemporary lyrics. A range of traditional musical means of expression is enriched here with modern arrangements addressed to contemporary audiences. Also the lyrics integrate the past with the present, referring to traditional values and universal problems in order to discuss the condition of man in the 21st century.